Please click on the titles to view different styles of books.

Your Life Goes Here!

       Handmade books for your every need

  Many of the books listed on this page have evolved from structures created by a fascinating, talented man and most gifted teacher, Michael Jacobs. For a really fun ride, go visit
www.thecreativezone.com
where Michael and his beautiful wife Judy live.
DISCLAIMER    /   CONFESSION

Accordion Book with Drop-down Floors

Picture Frame Book
- a fun book everybody wants to pick up and dive into. It can be from hefty (24" X 18") to tiny (2" X 1"), with any number of window units. Have one for each kid! And two for the dog! Windows can be any shape and can even be enclosed to contain objects (sand if you live near the ocean, jellybellies to tell about your favorite candy...)
Accordion Tab Book
- This is another fun model with particularly family-oriented possibilities! Each section contains at least one tab which contains at least one book... but the possibilities are endless! Each tab can represent each family member, with their own small books "hidden" inside that tells about each person, their pets, a photo, etc.  A photo can appear and disappear in the windows on each side of the sections as the tabs are pulled and pushed.The ingenious design enables the book to be made with as many or as few sections as needed.
Scroll Book
- This book-in-a-box can be any size, and draws the reader in with both hands. A hidden book can be underneath the main box, the lid of the box can have a small window cut in it to reveal some of the text,  and photos can be incorporated into the scroll with text. Let your imagination loose!

A Family House Book
- This "home" is a delight, and one everybody will want to tour. Pull off the roof and the four walls fall down to reveal individual family books. One book is behind a garden gate, one book is under a bed, one is behind the piano of this very musical family, and the other is enclosed in a pile of books.  The two hearts in the center represent the parents, and the three stars are their three daughters.
Click here
to take the roof off of The House Book.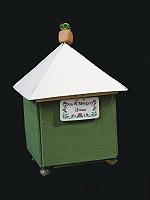 Stick-bound Book
- a unique and eye-catching book with endless possibilities! A scrapbbook or a collection of contributions from each family member to fill the pages, with hidden sections inside the front and back covers for photos, art work, anything!